Five Creative Ways to Keep the Holiday Magic Alive for Seniors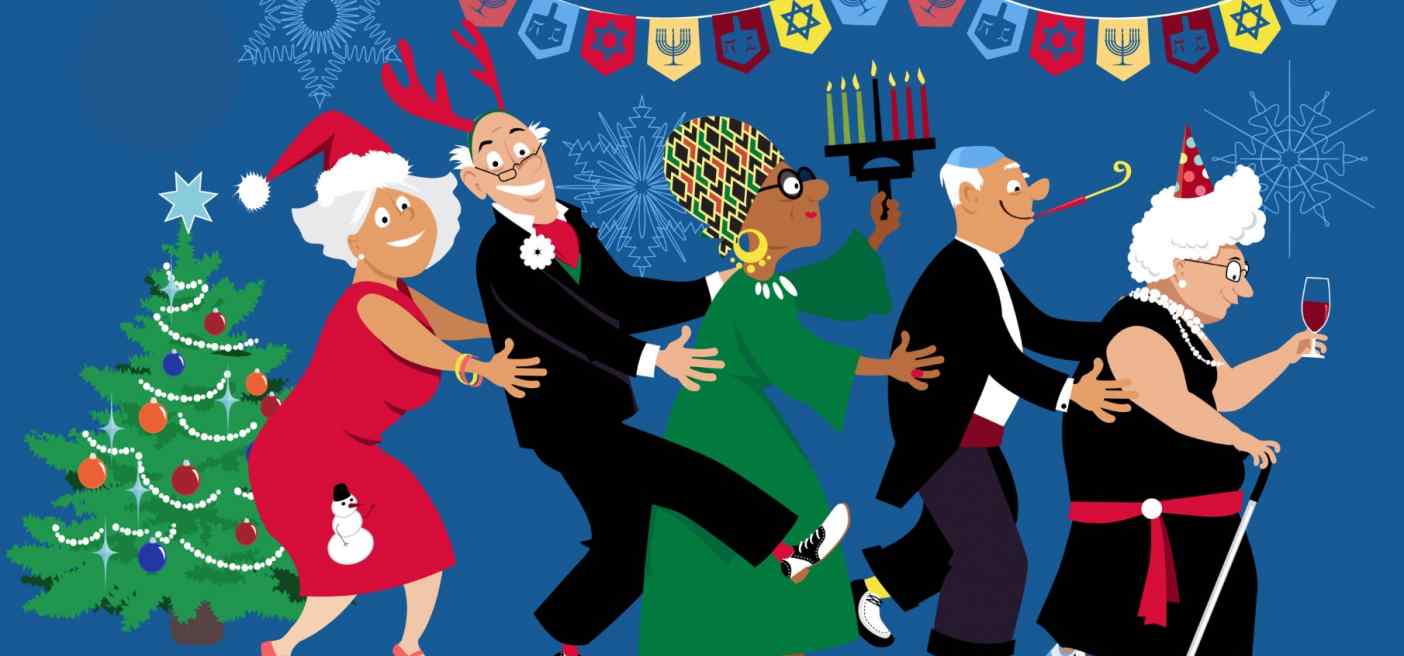 With holiday shopping underway and Americans looking for all the right gifts, when it comes to older relatives, it's good to step back and ask what our aging loved ones really want -- and need -- this holiday season.
Many will notice that as our parents and grandparents age, they don't want much and don't ask for much in the way of gifts. But how can families keep the holiday magic alive?
Set aside time soon to talk about maintaining traditions while integrating new customs and intergenerational activities that can be planned now and enjoyed before or during your celebrations.
If your senior has a home care provider, ask their home health aide to help, too. A private-hire, in-home caregiver can drive your senior to family activities, help them shop in stores or order gifts online, wrap presents, assist with logging into Zoom gatherings and Facetime calls, and decorate your loved one's home for the holidays.
Here are a five creative ways to enjoy the winter celebrations as a multi-generational family:
Cookin' Up a Storm -- Year in and Year Out
-- A few weeks before your holiday gatherings, get together in person or via Zoom/FaceTime to look through family recipes and talk about favorites.
Consider everyone's dietary preferences and see which long-standing recipes can be adjusted to accommodate the needs of those who cannot eat salty or fatty foods, are vegan or pescatarian, or have allergies, diabetes, Crohn's disease, or other conditions that require them to limit or restrict certain foods.
Can you divvy up special recipes among family members to prepare for upcoming in-home celebrations? Are there any relatives nearby who can bring the ingredients to a senior's home and help them cook a dish for all to share? Identify which recipes can be made in advance and frozen, which can be made a few days ahead and refrigerated, and which must be prepared on the day of the get-together.
This is also a great opportunity to begin collecting recipes to create a family holiday cookbook to share and pass on to the next generation. Some families create their books online while others prefer to give everyone a photo album with xeroxed copies of handwritten recipes or newspaper clippings that have been in the family for years.
Either way, be sure to make it a "living" cookbook that is always in the process of being updated so new recipes -- and revised old ones -- can be added from year to year.
Season's Greetings for All
-- If it's the longtime tradition of an elderly relative to send holiday greeting cards, help them make that happen -- via email or snail mail.
Who in the family can work on this? If your senior agrees to sending email greetings, set up a distribution list that can be used each year and help them design their perfect online card.
If the postal service is preferred, create an online spreadsheet with addresses so future snail mailings will be simple. Make sure someone can purchase the cards and buy stamps, too -- stamps with designs for Hanukkah, Christmas, and Kwanzaa are available at most post offices as well as online, but be sure to get them early before your favorites are sold out.
This important act of helping send holiday wishes is meaningful and will surely keep them connected to those near and far.
Unboxing Holiday Mementos -- and Memories
-- Head up to the attic, down to the basement, or over to the garage to gather holiday decorations.
Invite family members to join an online meeting to look through those boxes and reminisce about why the items are an important part of your family. Whether it's angels and wreaths, menorahs and dreidels, or unity cups and mats, encourage everyone to share their stories and then display the valued items that bring the most joy.
Pick a Flick, Pop some Corn
-- Get in the mood for seasonal cheer and watch a favorite holiday movie.
We're thinking "Miracle on 34th Street," "Eight Crazy Nights," "The Preacher's Wife," "Home Alone," "Frosty the Snowman," "The Black Candle," and "A Charlie Brown Christmas." But the list of options is long and you might pick two -- one to get everyone excited now in advance of the holiday and one to watch as the holiday approaches.
Pick the flick, pop the popcorn, and enjoy together. Can't all be in person for the viewing? Zoom while watching -- it's more fun than you might think.
Sing. . . Sing a Song . . . to Last the Whole Night Long
-- Get ready to belt out your family's favorite holiday songs.
Ask the musical folks on your list to take an informal survey of guests' musical favorites and be prepared for a holiday sing along for those attending the in-home celebration or online for those who can't make it in person this year. And be sure to add a piano, guitar, or other musical instruments to the mix.
Whether you decide to incorporate all five ideas this year, or set a couple aside for the next holiday season, it takes just one or two family members to organize the activities. But remember that many, many relatives, young and old, can be involved, so no matter what holidays you are celebrating, you can keep the magic alive for everyone on your list.