Nursing Home Care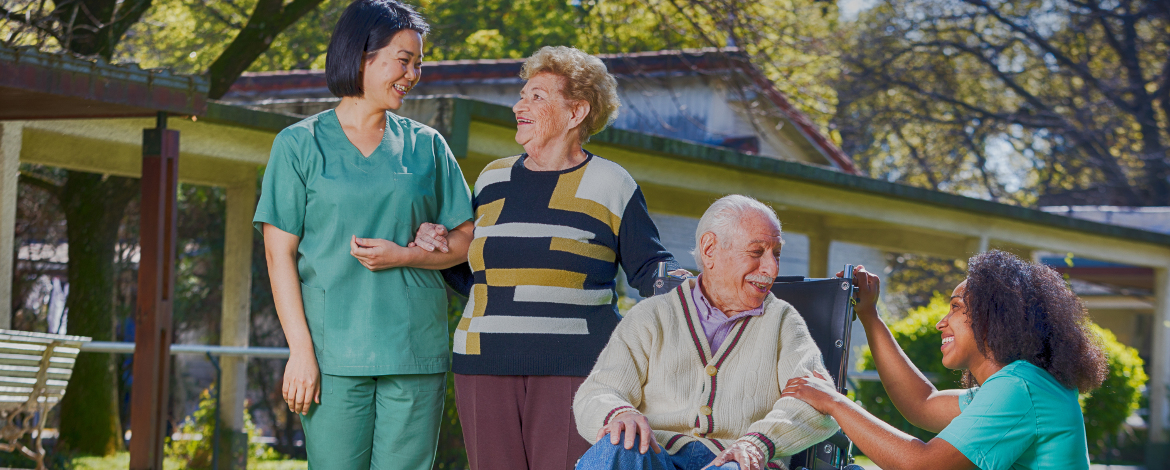 Skilled Nursing facilities or nursing homes provide care for people in need of preventive, rehabilitative or therapeutic nursing care. Nursing homes offer a residential option for those who do not need to be hospitalized but do need 24-hour assistance and care that may not be available at home. Some nursing facilities are set up similar to hospitals with staff members providing medical services. Many nursing facilities offer a variety of other services and options.
Many residents at nursing homes will get help with daily routines or engage in physical, speech, memory and occupational therapy training. The majority of nursing homes offer two different levels of care: One for short term residents and one for long-term/permanent care.
Short Term Nursing Home Care
Patients at short term nursing care facilities receive care after surgery or when recovering from an injury or acute illness. These residents reside in the facility temporarily while they recover and heal after hospitalization. After they have recovered and reached their physician-required health goals, they are moved back to their homes. Short term residents are usually housed in a separate area and often are a mix of people of all different ages.
Long Term Nursing Home Care
The majority of patients in long term nursing home care are often elders that have terminal illness or reduced cognitive abilities such as dementia and Alzheimer's. Long term residents will usually live out the remainder of their lives and require an elevated level of care. For these residents the nursing facility is not just a place to heal; it's their home. Often you will find nursing facilities are set up and decorated to be as home-like as possible with warm comfortable surroundings and relaxing outdoor views and gardens with sitting areas to keep residents relaxed and at peace.
How do you know when to consider Nursing Home Care?
Moving a parent or loved one into a long term nursing facility is often one of the most difficult challenges a family can face, but to make it easier it's good to consider the benefits the elevated level of care can provide to everyone. If you are not certain whether or not your loved one has reached a point where nursing care is necessary, here are a few signs that it may be time to make the decision.
1. The need for medical attention throughout the day is increasing.
It's probably time to consider a nursing home if your loved one requires more medical attention then you are able to provide at home.
2. Your parent, family member or loved one is having trouble moving around.
Mail, newspapers and packages are being left outside.
Missing out on social events, appointments or special events more frequently
They are unable to clean their home or living area.
Unable to transfer from a bed to a wheelchair.
Unsafe or impaired use of a vehicle; getting lost in their own town.
3. They've Stopped Eating Properly / Poor Diet. Signs of poor nutrition include:
No Food in the House
Skipping Meals
No longer wanting to eat solid food
Loss of appetite
Unsafe food prep or storage.
Unexplained weight loss
4. They have stopped taking care of themselves physically.
If your loved one is having trouble with or has stopped performing any of these personal tasks they may need nursing care:
Bathing/Showering/Personal Hygiene
Brushing Teeth / Oral Hygiene
Brushing Hair
Using Bathroom
Caring for sores / bug bites
Not changing clothes or ben linens
Eating
Dressing
Going to or getting out of bed.
5. They have trouble keeping up with their medication
Missing or repeating doses of prescribed medications is a very strong indicator that additional help may be needed. Other signs of missing doses could also include the return of illness or unexpected test results.
6. They frequently need to see specialists.
Seniors often require frequent visits to specialists for wound care and physical therapy. Nursing facilities offer easy access to a variety of specialists.
7. Frequent slips and falls.
If your parent or loved one is suffering from frequent bruising and soreness from falls it may be time for nursing home care.
8. Unexpected changes in wellness, routines and behavior.
Often the trigger for a higher level of care is a series of small things, including:
Refusing to let anyone into their home
Paranoia or delusions
Ongoing poor health or pain
Significant confusion or disorientation
If you are uncertain if it's time to consider a nursing home, contact our experienced care advisors for expert advice 844-532-6669